Savory Protein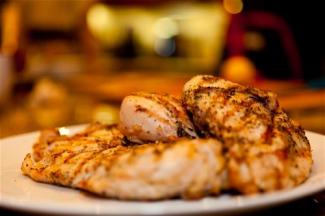 Ingredients
3 teaspoons olive oil
10 Chicken breasts (4 oz) pcs
3 cups water
16 oz California dried chilies
2 teaspoons minced garlic
1 teaspoon salt
1/4 teaspoon pepper
1/4 medium sized onion
2 teaspoons corn starch
1 cup green beans
1 cup corn
Instructions
1. Season chicken with salt, pepper, and olive oil. Grill chicken 2 minutes on each side then place it in the oven for 10 minutes at 350 degrees.
2. Boil the dried California chilies with onions. Once boiled, add in blender with water, salt, minced garlic, pepper, and corn starch. Blend until fine.
3. Once the sauce is complete, simmer with 1 teaspoon olive oil and let simmer on low for 20 minutes. Add salt as needed.
4. Once the sauce thickens, add the cooked chicken and simmer for 10 more minutes. Finally, add corn and green beans.
Categories: Meat