Hearty & Fresh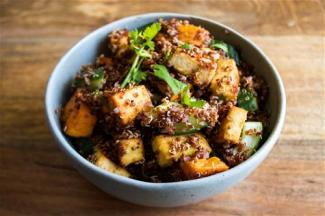 Ingredients
1/4 cup firm tofu
1/4 cup kale
1/4 cup onion
1/4 cup cabbage
1/4 cup zucchini
1/4 cup brown rice
1/2 cup water
2 tablespoons coconut oil
4 tablespoons soy sauce
2 tablespoons mushroom sauce
1 mason jar
1 gallon zip lock bag
Instructions
1. Add rice and water to a saucepan, bringing it to a boil, then turning down the heat to low and covering the pan. Cook for 30-50 minutes.
2. Pat down tofu with paper towel to remove moisture. Chop tofu into 1 inch by 1 inch squares.
3. Put one tablespoon of coconut oil in a frying pan on medium heat and add tofu. Cook on one side until golden brown, then add 2 tablespoons of soy sauce and 1 tablespoon of mushroom sauce. Cook until both sides are crisp.
4. Add rice and tofu to mason jar and place in refrigerator.
5. Chop other veggies into desired size and place in gallon zip lock bag. You can put this bag in the refrigerator or the freezer.
6. When ready to eat, sauté veggies in remaining coconut oil, then add remaining soy sauce and mushroom sauce.