Vibrant & Fresh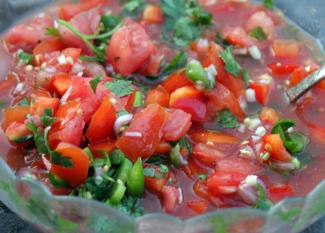 Ingredients
12 roma tomatoes
3/4 medium onion
2 cups cilantro
2/3 jalapeño
1 lime
Salt to taste
Instructions
Dice up the tomatoes and onions and put them into a large bowl. Try to have an equal ratio.
If desired, cut the jalapeños in half lengthwise and remove the seeds with a spoon. Dice them into tiny pieces and add into the bowl.
Juice half a lime into the bowl and season with salt to desired taste. Mix very well and serve!
Categories: Vegan