Cheesy & Crispy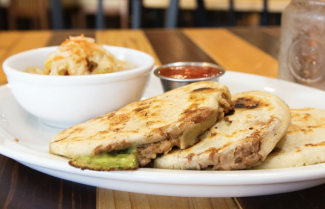 Ingredients
3 cups Maseca

3 cups Water

2 tsp Salt
Filling
Cheese

1 can Black Beans

3 cloves Garlic
Curtido
Yellow Onion,

sliced

½ head Green Cabbage,

sliced

Carrots,

shredded

1 cup Vinegar

½ cup Water

2 tsp Oregano

Salt/Pepper to taste
Make it Your Own!
Add protein: Pork shoulder, shredded chicken, chorizo, soyrizo, ground beef.

Veggie Boost: Grilled zucchini, corn, bell peppers, jalapenos- all great filling options.

You can use any type of melted cheese, cream cheese, cheddar, mozzarella, Monterey Jack, Oaxaca are all good options.

Plant powered: if vegan swap out cheese for a vegan cheese.
Instructions
In a bowl combine cabbage, onion, and carrots and mix with boiling water. Let sit for 10 minutes. Drain and pour vinegar, oregano, and water over the mixture. Place curtido in the fridge, let sit overnight/at least 20 minutes.

If using meat make sure to fully cook and brown meat in a pan. Shred or dice and set in a separate bowl before assembling.

Shred cheese and set aside.

In a bowl empty can of beans of choice,rinsed or with their liquid, mash with a potato masher, fork, flat bottom cup or bowl until desired consistency.

Heat a large skillet or saute pan over medium high heat. Add oil and onions and a pinch of salt. Cook until the onions have softened and are turning translucent, and are starting to smell fragrant about 5 to 8 minutes.

Add any spices or hot sauce. Cook, stirring constantly, until fragrant, about one minute. Pour in the canned beans. Stir and cook for 5 minutes until liquid is cooked off. Place in a bowl to be assembled.

In a large bowl mix the masa, water, and salt, and roll into balls. The texture should be clay-like.Have a small bowl with water and a bit of oil. Dip your fingers into the mixture which will keep dough from sticking to your hands.

Take a golf sized ball of dough, flatten it and place filling in the middle. Wrap edges around middle filling to make another stuffed ball.

Flatten the dough again. Use a flat bottomed pan, bowl, or your hands to make thick pancake shapes.

Heat a frying pan over medium heat. Add vegetable oil and place however many pupusa patties you can comfortably fit in your pan and still be able to flip. Cook evenly on both sides for 3-5 minutes until golden brown.

Load up any toppings on top: Curtido, avocado, salsas, pickled veggies, green onions, sliced radishes are all great options.
Categories: Vegetarian, Vegan, Meat