Quick No Cook Recipes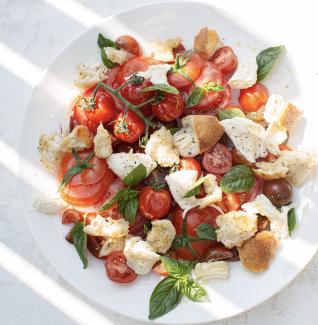 Ingredients
6 medium very ripe tomatoes

4 ounces fresh mozzarella

6 large basil leaves

4 Tablespoons good quality

extra virgin

olive oil

Pesto

Salt, preferable good quality sea salt (optional)
Instructions
Core out the stem end of the tomatoes, removing any white-ish flesh near the stem, by inserting a paring knife at a 45-degree angle near the stem, rotating the tomato around the blade, and removing (and discarding) the bit of core.

Cut the tomatoes into 1/4-inch slices (a sharp or serrated knife will help make smooth slices).

Cut the mozzarella into similarly 1/4-inch slices and Layer the tomato and mozzarella slices on a serving platter or on four individual salad plates

Drizzle the salad(s) with

olive oil

and pesto, sprinkle them with salt to taste, if you like.

You can leave the basil leaves whole, tear them by hand into smaller pieces, or cut them into ribbons.
Categories: Vegetarian