Fresh & Fibrous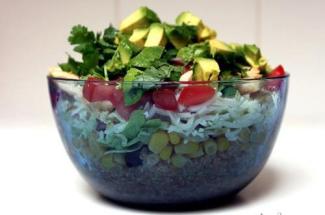 Ingredients
2 tablespoons salsa
1/4 cup canned black beans
1/4 cup black pepper
1/4 cup short grain brown rice
1/2 cup water
1/4 cup romaine
1/2 avocado
1/2 lime
1 mason jar
Instructions
1. Prepare rice by adding rice and water (2 cups of water to 1 cup of rice ratio) to saucepan, bringing it to a boil, then turning down the heat to low and covering. Cook for 30-50 minutes.
2. Drain beans and corn.
3. Add rice, beans, corn, bell pepper, and salsa to mason jar.
4. When ready to eat, add romaine and avocado, then squeeze the lime on top.