Meditation Event Ticker
There are no events for this health topic right now, please check back soon!
Body Scan for Bedtime
It can be hard to control the noises surrounding us before we go to bed, especially in college. To help ease you into sleep, check out our short 10-minute bedtime meditation. Download below if your browser does not support HTML5 audio.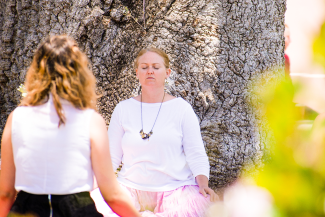 Koru Mindfulness & Meditation Series
The ability to calm the chatter in our minds is a crucial skill for the modern student. Learn evidence-based skills in meditation, stress-management and mindfulness techniques developed specifically for college-age students. This workshop series will include an interactive mobile app and complementary coursebook, The Mindful Twenty-Something, by Holly B. Rogers, MD. Students MUST commit to all 4 sessions in order to enroll. Space limited to 14 participants.
Register for Koru Mindfulness Series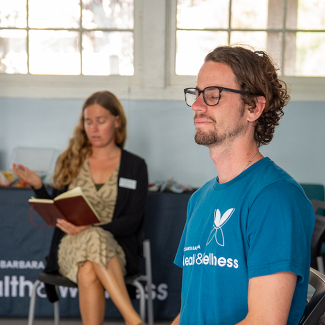 Mindfulness for Social Justice
By acknowledging how capitalist society places value on production over humanity, joy, and rest, this course aims to explore how self and community care may bring us closer to our authentic and full selves, which is necessary for doing social justice work. Using mindful practices as a way to learn more about oneself and create a community beyond the restrictions and expectations of our oppressive society, we hope to provide a tool kit for students to prevent burnout and promote self-preservation. In order to sustain ourselves and our work for the long-term, we must engage with restful practices that are truly restorative to our minds, bodies, and spirits. To that end, we will learn and practice methods to self-soothe, participate in community care, and understand rest as a truly revolutionary act. Our time together will also serve as a discussion space touching upon the topics of grief, rest, spirituality, and capitalism while prioritizing self-discovery, community care, and joy.
Short Breath Meditation
呼吸是自主发生的,我们无需做任何事情。话虽这么说,呼吸的过程往往被忽视,并且没有引起我们的注意。这个冥想视频给呼吸的过程带来细微的差别和理解。在短短的5分钟内,你便可以感受呼吸带来的放松和能量!
Study Break
这个冥想视频包括学习空间和环境的参考与建议。无论你是在复习准备考试,还是在完成作业,或是与你的同学合作,都可以使用此冥想来放松心情,缓解压力!希望你喜欢这个视频。
For additional readings and resources on this health topic, check out our UCSB Library Well-being LibGuide!