While honoring the traditional roots of meditation practices, our programs are shaped by this rich history as well as the research backed findings of mindfulness as a tool to alleviate suffering in our modern day lives. As our minds engage in reverberating thoughts of the past or future, we can often over stimulate our fight or flight response. By retraining the mind to build new neural pathways through the practice of being present minded, we can reduce stress and increase equanimity. Facilitated by a trained instructor, all offerings are beginner friendly with no experience or particular beliefs needed. Come join us! 
How to Start and Stay Meditating
Are you new to meditation or are you struggling to develop a practice? Check out some helpful tips from previous Health & Wellness Meditation Intern Sean Reilly, and Psychology Professor Dr. Spencer Sherman, as they cover how meditation affects the sense of self, the power of practicing meditation in a community, and how to get over the uncomfortable start in becoming self aware. Much more is covered in this inspirational video, including a short guided meditation by Dr. Sherman.
Lessons on Mindfulness and a Guided Meditation with the Hsi Lai Temple
On February 8th, the Venerable Huicheng met with the UCSB community to talk about the role of meditation and mindfulness in daily life and elaborated on the practices and beliefs held by the monastics at his temple. Please feel free to watch this recording or listen to the audio if you are interested in the psychology behind meditation, how to use meditation and mindfulness to improve one's health and wellness, and all of these topics from the perspective of the Venerable Huicheng.
Body Scan for Bedtime
It can be hard to control the noises surrounding us before we go to bed, especially in college. To help ease you into sleep, check out our short 10-minute bedtime meditation. Download below if your browser does not support HTML5 audio.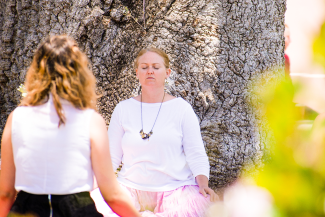 Mindfulness & Meditation Series
The ability to calm the chatter in our minds is a crucial skill for the modern student. Learn evidence-based skills in meditation, stress-management and mindfulness techniques developed specifically for college-age students. This workshop series will include free meditation app and complementary course book, The Mindful Twenty-Something, by Holly B. Rogers, MD. Students MUST commit to all 4 sessions in order to enroll.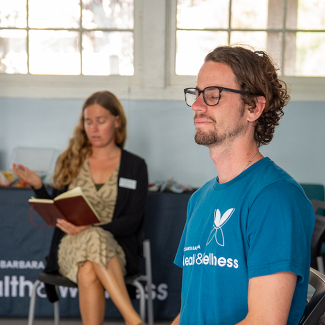 Short Breath Meditation
呼吸是自主发生的,我们无需做任何事情。话虽这么说,呼吸的过程往往被忽视,并且没有引起我们的注意。这个冥想视频给呼吸的过程带来细微的差别和理解。在短短的5分钟内,你便可以感受呼吸带来的放松和能量!
Study Break
这个冥想视频包括学习空间和环境的参考与建议。无论你是在复习准备考试,还是在完成作业,或是与你的同学合作,都可以使用此冥想来放松心情,缓解压力!希望你喜欢这个视频。
UC Santa Barbara's Self Guided Labyrinth Tour
Open to students, staff faculty, and the public. Specially designed to be ADA compliant & wheelchair accessible. The UCSB campus labyrinth is a place of calm that encourages meditation, reflection, and rejuvenation. The beautiful location of the labyrinth - on the bluff above the Pacific Ocean - invites an appreciation of nature in a very special way. There are sights, sounds, and scents of nature with tremendous restorative power.
Hours: It is open 24 hours a day, 7 days a week, 365 days a year.
Location: Located on the lagoon island via a path southeast of Manzanita Village, located on the southwest portion of the campus (see directions below with map).
History: Labyrinths are ancient symbols that have been used by various cultures and religions around the world for more than 4,000 years. Many of their patterns are based on spirals and circles mirrored in nature. Some people come to contemplate questions or to simply relax, while other come during time of grief or loss, seeking solace. Unlike a maze, it has a single path in full view that lead to the center and back out the same way. There are no tricks or trap. This powerful process of moving toward the center and back out can provide an opportunity for the traveler to move mindfully, focus intentionally, open the heart, and find their center. Today, labyrinths are being used worldwide as a way to gain self-awareness and insight by encouraging meditation, self-reflection, and stress reduction. The practice of labyrinth walking integrates the body with the mind. They are open to all people as a non-denominational, cross-cultural blueprint for well-being.
Instructions:
Reflect: Before entering the labyrinth, think about what you are grateful for and any questions or problems you wish to receive guidance on.

Release: As you slowly walk the path to the center, let go of any unwanted thoughts, feelings, attitudes, etc. that no longer serve you. Notice where your mind wanders and be mindful of bringing it back to the present moment.

Receive: Once in the center, meditate/pray/be silent as you receive what is there for you.

Return: When ready, follow the path out of the labyrinth. You may feel a sense of renewal.

Remember: Once out of the labyrinth, take a full, deep breath and a moment to reflect on your experience. All of the walks benefits may not unfold to you immediately. Continue to be mindful as your answers may come with time.
There is no right or wrong way to walk the labyrinth; honor your own pace and process. Please respect the experience of others as they walk the labyrinth.
Directions from Off-Campus:
Take the Los Carneros exit from the 101 and head towards the ocean side.

When Los Carneros ends in a "T" at El Colegio - turn left.

Once you are on campus, turn right on Ocean Road (by the event center)

There is public parking in Lot 23 (you will need to pay a fee).

Continue walking down Ocean Road after parking until you get to the walking path along the bluffs - turn left.

Follow the path and enjoy the walk. You will be going down some stairs and back up a small hill before getting to the labyrinth, which will be on your right.
Library Guide for Wellbeing
For FREE additional readings and resources on meditation, check out our UC Santa Barbara Library Well-being LibGuide. Here you can find curated books and more on this health topic that you can download and read on your computer or mobile device... FREE!
Here are some of just the many meditation books offered at our LibGuide!