As we safely welcome students back to campus, Health & Wellness continues to offer a variety of public health programming and outreach efforts. As we transition, it is important we continue to embed students' health and well-being in the campus culture and value it as integral to everyone's success at UC Santa Barbara. Please see below for programming related to COVID-19 offered by our department. Outside Health & Wellness offerings, students can find links below to in-depth information on campus statistics at the UCSB COVID-19 Dashboard page and detailed medical resources at the Student Health Services page.
Physical Health Event Ticker
There are no events for this health topic right now, please check back soon!
UCSB COVID-19 Information
Donate to UCSB Health and Wellness
Mask Distribution Program
As part of the campus effort to transition safely back to campus, H&W will be providing free face coverings to students.
Campus Distribution Centers
There are ongoing distribution centers on campus where masks will be available to pick up while the building is open:
Student Resource Building Front Desk
Campus Store Customer Service Desk
Library Front Desks(Both)
EUCR at Engineering
Major Lecture Halls
The following lecture halls with have a desk setup with free masks you can use for lecture:
Campbell Hall
Embarcadero Hall
IV Theater
Weekly Electric Car Stand at the Arbor
There will be an electric vehicle, tent, and table setup at the Arbor distributing free masks weekly. Every Friday from 1-3.
Select Classrooms
Health & Wellness Interns will bring masks with them daily to all their lectures and make an announcement at class and leave them at the front of the classroom.
Walking Distribution
Health & Wellness Interns walk around daily in their uniforms (look for bright colored H&W t-shirts!) distributing masks around campus. Feel free to grab one on the go when you see an intern.
Ask Me For A Mask Program
Student volunteers who wear an "Ask Me For A Mask" Button will always have free masks on them. If you see someone around campus or in class wearing this button, feel free to ask them for a mask.
Greek Life
The Majority of Greek organizations on campus have been given masks to distribute. If you are a member of Greek Life, please ask your organization leaders how you may obtain a free mask.
Org/Department Mask Requests
If you are an Organization or Department on Campus who would like to distribute masks, please contact Jason Stone at jason.stone@sa.ucsb.edu to coordinate.
Public Health Ambassadors
Public Health Ambassadors provide education on COVID-19 basics, encourage behaviors that support their health and encourage students to know and follow campus protocols.  Ambassadors are not enforcers of guidelines and policies, but model choices for the health & well-being of our campus and community.  
The roles of Public Health Ambassadors include the following:
 
Answer questions about COVID-19 basics such as: importance of wearing a face covering, how to wear a face covering properly; physical distancing, testing & where to get it, vaccine information, etc.
Direct students to campus resources related to COVID-19 including: COVID-19 call center, campus and community testing sites, how to get support when caring for a loved one who has COVID-19, Basic Needs and financial crisis resources, mental health resources, and sites where students can find the most up to date campus and community updates on COVID-19.
Provide "COVID-19 care kits:" includes free face covering, hand sanitizer, self-care items, thermometers (as supplies last)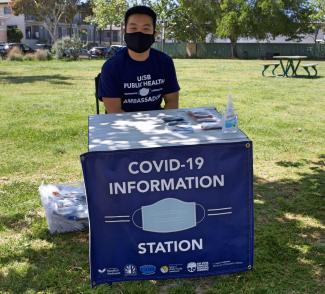 Help support the Health Promotion Ambassador Program with a donation to the Department of Health & Wellness