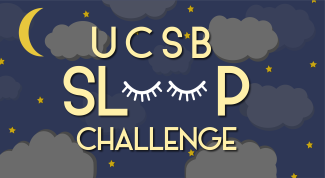 This online seven-day challenge sheds light on the science of sleep. Our challenge will give you tips on how to track a sleep schedule, inform you on how what you consume affects your sleep and help you learn more about your own personal sleep habits.
The Department of Health and Wellness continually seeks to assess and improve the UCSB Sleep Challenge. Ultimately, our goal is to determine the effectiveness of our online sleep education program through surveys.  Students will be asked to complete a pre-survey, 7 modules INCLUDING the 3 core modules indicated on the website, and a post-survey. 
If you participate in the surveys, your Sleep Challenge data will be confidential and de-identified. You will also be asked to give your email in the pre-survey so that we can conduct a follow-up 30 days after the Sleep Challenge has completed. 
We will only use your data to inform our Sleep Challenge programming, and to guide any future improvements to the challenge. 
General overview of what the 7-day challenge will look like: 
1. Take the Pre-Survey. (Sunday- Monday) 
The pre-survey will consist of three components. First, you will indicate whether you would like to participate in research. If you say yes, you will be asked to read and sign a consent form and give us your email. If you say no, you will simply continue to the next portion of the pre-survey. Next, you will take a series of validated scales that will be asking you questions about sleep behaviors and attitudes. Lastly, you will be asked to take a fun, short quiz that will answer, "What animal do you sleep like?" The pre-survey should take no more than 15 minutes to complete. 
2. The Challenge begins! Pick one module each day. (Monday-Sunday)
After you take the pre-survey, you should complete one module every day for 7 days. The first 3 days you need to take the 3 core modules: Bedtime Routines, Sleep Debt, and Memory and Learning. Every module includes short, easy to read summaries of peer-reviewed research in the field of sleep science. At the end, you will take a short 5-10 minute survey that will assess how much you have learned as well as how helpful you found the module. 

The following is a example of a student's potential path through the challenge
Monday: Bedtime Routines (Core Module #1)
Tuesday: Sleep Debt (Core Module #2)
Wednesday: Memory and Learning (Core Module #3) 
Thursday: Module of your choice 
Friday: Module of your choice 
Saturday: Module of your choice 
Sunday: Module of your choice 
3. Take the Post-Survey (Sunday-Monday)
The post-survey will also consist of two components. First, you will once again be asked to answer a series of validated scales asking questions about sleep attitudes and behaviors. Lastly, you will be asked to give feedback on the challenge. H&W strives to serve students, and getting your feedback is one way we can continue to improve based on your needs.